The Reverend Dr. Joanna Adams, Presbyterian Church (USA) (retired)
Imam Plemon T. El Amin, Imam Emeritus, Atlanta Masjid of Al-Islam
Tony Banout, Vice President of Institutional Advancement, Interfaith Youth Core
Rabbi Peter S. Berg, Senior Rabbi, The Temple
Bill Bolling, Founder, The Atlanta Community Food Bank and Chair, Food Well Alliance
Richard Brown
Ethel Ware Carter, Director of Programs Regional Council of Churches of Atlanta
The Reverend Dr. William Clarkson IV, Executive Coaching Practice Leader, Carney Sandoe & Associates
Michael Coles, Chairman, Brand Bank Holding Company and Brand Bank
Dr. Elizabeth Corrie, Associate Professor, Candler School of Theology
The Reverend Dr. Gerald L. Durley, Providence Missionary Baptist Church
The Reverend Dr. Gregory C. Ellison II, Associate Professor, Candler School of Theology
Dr. Robert M. Franklin, Professor, Emory University and Chautauqua Institution
Mary Ellen Giess, Chief of Staff and Lead Strategist, Interfaith Youth Core
Louise R. Glenn, Trustee, The Wilbur and Hilda Glenn Family Foundation
Thomas K. Glenn II, Chair, The Wilbur and Hilda Glenn Family Foundation
Scotty Greene, St. Bartholomew's Episcopal Church
Deacon Bob Hauert, Pastoral Associate, Immaculate Heart of Mary Catholic Church
*Dr. Ben Johnson, Columbia Theological Seminary
Derreck Kayongo, CEO, The National Center for Civil and Human Rights
Soumaya Khalifa, Founder, Islamic Speakers Bureau of Atlanta and CEO, Khalifa Consulting
Rabbi Loren Filson Lapidus, Associate Rabbi, The Temple
The Reverend Jill Morehouse Lum, Relationships Manager, Fearless Dialogues
Megan McCamey, Social Impact Advisor, CARE, Dentons, GreenPrint Corporation and others.
Eboo Patel, Founder and President, Interfaith Youth Core
Alicia Philipp, President, The Community Foundation for Greater Atlanta
The Reverend Angela Harrington Rice, Board Chair, Interfaith Community Initiatives
The Reverend Natosha Reid Rice, Associate General Counsel, Habitat for Humanity International & Associate Pastor, Historic Ebenezer Baptist Church
Deborah Richardson, Executive Vice President, The National Center For Civil and Human Rights
A.J. Robinson, President, Central Atlanta Progress
Rabbi Alvin Sugarman, Rabbi Emeritus, The Temple
The Reverend Dr. George B. Wirth, First Presbyterian Church of Atlanta (retired)
The Reverend Dr. Deanna Womack, Candler School of Theology
Gareth J. Young, Author, Blogger and Speaker
*Deceased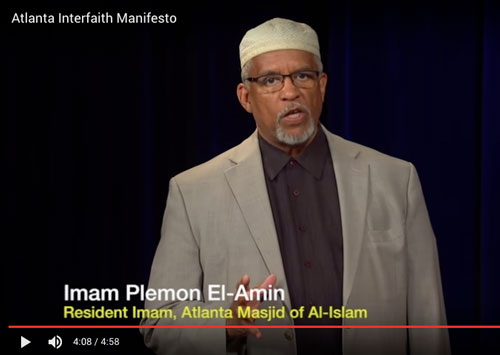 In 1957, eighty white ministers in Atlanta publicly endorsed what has been referred to as the Ministers Manifesto denouncing racial segregation. The statement was published in the Atlanta papers and subsequently the New York Times. We feel it is time to publish a similar document and start a movement for interfaith cooperation.
For more than a year, religious and thought leaders in Atlanta have met to denounce bigotry and enhance interfaith cooperation. Atlanta has a history of taking stands for human rights. Martin Luther King, Jr., Mayor Ivan Allen, Jr. and Atlanta Constitution Editor Ralph McGill are among the giants on whose shoulders we now stand.
We now ask you to join with us and stand against religious bigotry, violence and hate in Atlanta and around the world.